Return to Headlines
Virtual FAN Event with Andrew Aydin on September 14
September 7, 2021 8:00am CT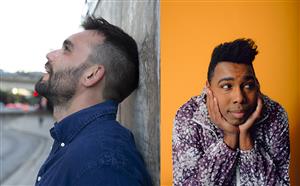 Andrew Aydin and Saeed Jones
(image from www.familyactionnetwork.net)

"Run: Book One – A Conversation with Andrew Aydin," will be held on Tuesday, September 14, beginning at 7:00pm via Zoom. The event is free and open to the public, suitable for ages 12 and up. Registration is required.
To the late civil rights icon John Lewis, the civil rights movement came to an end with the signing of the Voting Rights Act in 1965. But that was after more than five years as one of the preeminent figures of the movement, leading sit–in protests and fighting segregation on interstate busways as an original Freedom Rider. It was after becoming chairman of SNCC (the Student Nonviolent Coordinating Committee) and being the youngest speaker at the March on Washington. It was after helping organize the Mississippi Freedom Summer and the ensuing delegate challenge at the 1964 Democratic National Convention. And after co-leading the march from Selma to Montgomery on what became known as "Bloody Sunday."
All too often, the depiction of history ends with a great victory. But Congressman Lewis knew that victories are just the beginning. In Run: Book One, the highly anticipated sequel to the National Book Award-winning March trilogy, Rep. Lewis and longtime collaborator Andrew Aydin continue where the March trilogy left off to tell this often overlooked chapter of civil rights history. This groundbreaking graphic novel is illustrated by Nate Powell—the award-winning illustrator of the March trilogy—and debut comic artist L. Fury.
Prior to his passing, Congressman Lewis noted, "In sharing my story, it is my hope that a new generation will be inspired by Run to actively participate in the democratic process and help build a more perfect union here in America."
Mr. Aydin, the former digital director and policy advisor in Congressman Lewis' office, will be in conversation with Saeed Jones, author of the memoir How We Fight for Our Lives, winner of the 2019 Kirkus Prize for Nonfiction, the 2020 Stonewall Book Award/Israel Fishman Non-fiction Award, a 2020 Publishing Triangle Award, and a 2020 Lambda Literary Award. Mr. Jones is also the author of the poetry collection Prelude to Bruise, winner of the 2015 PEN/Joyce Osterweil Award for Poetry and the 2015 Stonewall Book Award/Barbara Gittings Literature Award. The poetry collection was a finalist for the 2015 National Book Critics Circle Award.
The September 14 webinar is sponsored by Family Action Network (FAN), in partnership with Evanston Township High School D202, Baker Demonstration School, Beacon Academy, Bennett Day School, Catherine Cook School, Christ Church Winnetka, Compass Health Center, Evanston Scholars, Foundation 65, Fusion Academy, Lake Michigan Association of Independent Schools, Mindful Psychology Associates, New Trier High School D203, New Trier Parents' Association, North Shore Country Day, Regina Dominican High School, Rogers Park Montessori School, Roycemore School, Sacred Heart Schools, School of Education and Social Policy at Northwestern University, Science & Arts Academy, Stevenson High School D125, The Alliance for Early Childhood, Wolcott College Prep, Woodlands Academy, Young, Black & Lit, Youth & Opportunity United (Y.O.U.).
The event will be recorded and available later on FAN's website and YouTube channel. A bonus after-hours event is also available to webinar attendees. For more information, visit www.familyactionnetwork.net.