Return to Headlines
Marcus Campbell Selected as the Next Superintendent of ETHS District 202
April 21, 2022 6:52pm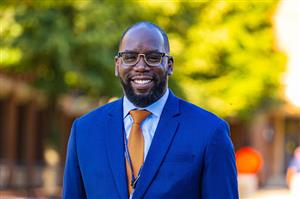 Marcus Campbell, Ed.D. (Photo by Nate Perry)
Evanston, IL – The Evanston Township High School District 202 Board of Education announced that Dr. Marcus Campbell has been selected to serve as its next superintendent beginning July 1, 2022. A special board meeting was held April 21 regarding the unanimous decision to name Dr. Campbell, who is currently the assistant superintendent and principal at ETHS. Dr. Campbell succeeds Dr. Eric Witherspoon who retires this year on June 30. The Board is finalizing the contract and intends to approve it at their May 9th meeting.
"It was essential to the board that we engage the community in the selection of our next superintendent," said ETHS Board president Pat Savage-Williams. "We selected the Alma Advisory Group because they share this value and they developed a very thorough process to hear from our stakeholder groups."
"Our community told us what it was looking for in the next superintendent, which allowed us to develop the job description and articulate the competencies. Community members spent several hours in extensive interviews with Dr. Campbell, and we received overwhelmingly positive feedback in support of him as the next superintendent."
With 21 years of experience at ETHS, Dr. Campbell has played a central role in the district's equity transformation programs and initiatives. He has received both personal and professional accolades for his leadership in the development of district strategy and organizational change. Dr. Campbell has worked to effectively engage students, staff, families, the Board, and members of the community to clearly articulate the goals and priorities of the district. More information about Dr. Campbell's biography and the superintendent search process is available on the ETHS website.
"The ETHS Board poured through the interviews, as well as all of the feedback and information we received from the surveys, panels, and focus groups," Savage-Williams added. "One community survey respondent summed it up well: 'Dr. Campbell is thoughtful, engaging, and clearly dedicated to the success of Evanstonians and the ETHS community. My impression of him is that he understands the complexities of achievement and the obstacles to achieve - particularly in Black and Latinx communities - and he is willing to be a creative and strategic thinker. Dr. Campbell models the kind of community leadership that Evanston talks about, and I believe he will be a successful superintendent and leader.'"
"We would like to thank everyone in our school community for all their support, their participation and their feedback during this process," remarked ETHS Board vice president Monique Parsons. "The experience, visionary leadership, deep commitment to our students and support of our great staff makes Dr. Campbell perfect to lead us into the next era of Wildkit pride."
The ETHS Board also offered gratitude to Dr. Witherspoon for his leadership during the past 16 years and his support to ensure a smooth transition in the district over the next two and a half months.