Return to Headlines
Virtual FAN Event with Myisha Cherry on October 5
September 29, 2023 12:30pm CT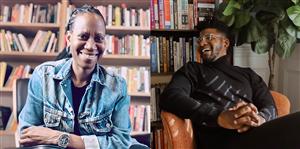 Myisha Cherry, Ph.D. and Danté Stewart
(image from www.familyactionnetwork.net)
"Failures of Forgiveness: What We Get Wrong and How to Do Better," will be held on Thursday, October 5, beginning at 7:00pm via Zoom. The event is free and open to the public, suitable for ages 12 and up. Registration is required.
Myisha Cherry, Ph.D.'s investigation of forgiveness began after the mass shooting at Emanuel A.M.E. Church in Charleston, South Carolina, when some who had lost loved ones forgave what seemed unforgiveable. She was troubled by observers who focused on this "inspiring" response over the racial hatred that led to this tragedy. As associate professor of philosophy at the University of California, Riverside, where she also directs the Emotion and Society Lab, she was moved to pin down the potential and pitfalls of how we make amends—to provide careful, moral prescriptions.
Dr. Cherry's new book, Failures of Forgiveness: What We Get Wrong and How to Do Better, is a reckoning with widespread, wrongheaded beliefs. She examines how forgiveness can go wrong in families, between friends, at work, in the media, and in politics. Cherry addresses forgiveness and race, cancelling versus forgiving, forgiving yourself, and more. She argues that we can forgive and still be angry; there can be good reasons not to forgive; and forgiving a wrong without tackling root causes solves nothing.
Providing new pathways to think about the ways we expect and react to wrongdoing, Cherry offers in-depth advice and takeaways, including 1) Forgiveness entails forgivers, withholders, and requestors, not just villains and victims; 2) Forgiveness is not an action or a process, but rather a set of moral practices; 3) It can end with relief, release, or reconciliation; and 4) Forgiveness will not save us but changing our relationship with it will get us closer to saving ourselves.
Cherry is the author of The Case for Rage: Why Anger Is Essential to Anti-Racist Struggle and UnMuted: Conversations on Prejudice, Oppression, and Social Justice, which draws on her popular podcast UnMute. She will be in conversation with Danté Stewart, who is a theologian, essayist, cultural critic, and author of Shoutin' In The Fire: An American Epistle. Mr. Stewart's work has appeared in the Atlantic, New York Times, the Washington Post, TIME, ESPN's Andscape, Oxford American, Sojourners, NPR, CNN, MSNBC, and more.
The October 5 event will be recorded and available on FAN's website and YouTube channel. For more information, including a list of sponsors for the event, visit the Family Action Network website.