Return to Headlines
African-American Youth Achievement Awards Recognize Evanston Students
March 19, 2021 11:15am CT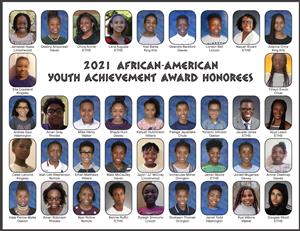 Students from Evanston/Skokie school districts 65 and 202 were honored at the African-American Youth Achievement Awards virtual ceremony on March 18.
Evanston Township High School virtually hosted the 24th annual African-American Youth Achievement (AAYA) Awards to honor 38 African-American students from Evanston/Skokie public schools. These students were recognized in a virtual ceremony on March 18, 2021, for their daily actions that pay homage to the visions and legacy of African-American pioneers.
The AAYA program is part of a Black History Month initiative and was sponsored by the Ivy Pearl Foundation, Byline Bank, Chessmen, Delta Sigma Theta Sorority Inc., Family Focus Evanston, Joe "Butch" Martin Foundation, McGaw YMCA, NAACP, Northwestern University, Zeta Phi Beta Sorority, Inc., Shorefront, Gerri Sizemore, and Soul Creations, in conjunction with Evanston/Skokie School District 65 and Evanston Township High School District 202.
2021 high school AAYA recipients
Evanston Township High School
China Archie
Lena Augusta
Naiyah Bryant
Javade Jones
Aliya Leach
Jemari Moore
Bennie Ruffin
Douglas Wood
2021 middle school AAYA recipients
Chute —
Titilayo Ewulo
Pallage Jayatilake
Haven —
Destiny Amponsah
Malik McCaulley
Nichols —
Isaiah Lett-Stephenson
Nyel Rollins
2021 elementary and magnet school AAYA recipients
Bessie Rhodes —
Amari Gray
Amari Robinson
Dawes —
Deandre Beckford
Amirat Oladimeji
Dewey —
Shayla Hunt
Jordell Muganwa
King Arts —
Yoel Bahta
Adanna Chira
Kingsley —
Ella Copeland
Caleb Lemond
Lincoln —
London Bell
Ryleigh Simmons
Lincolnwood —
Jameelah Ajasa
Jaylin "JJ" McCray
Oakton —
Yohanni Johnson
Inala Perlow-Myles
Orrington —
Imma Millner
Dushawn Thomas
Walker —
Miles Henry
Kya Wilkins
Washington —
Andrea Gaul
Jarrell Todd
Willard —
Kaliyah Hutchinson
Ethan Matthews