Facility Upgrades 2018-19
Many facility renovations were completed on the ETHS campus during the summer. We also expanded the use of certain spaces like the Meditation Studio and the Testing Center:
Meditation Studio (N218)

: Teachers from all academic areas may invite their classes to the Meditation Studio for mindfulness training and guided meditation practice. Students may contact their teachers for questions.
Testing Center (H222C) - updated 8/21/18

: ETHS now has a dedicated space where students may take their makeup quizzes and tests. This will help minimize disruptions for students who are taking make-up tests, as well as for everyone in the classroom.
Entrance 3 renovation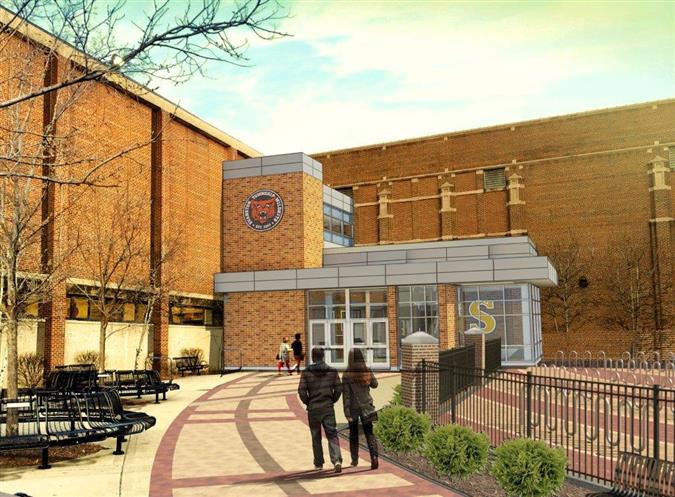 Rendering of Entrance 3 pathway

Entrance 3 at the rear of the ETHS building has been renovated to create an accessible, secure and welcoming entryway to the Gym Wing. The entrance now includes a safety checkpoint, a covered walkway to Beardsley Gym with benches (rendering below), an elevator to second floor gyms, and accessible bathrooms on the upper floor.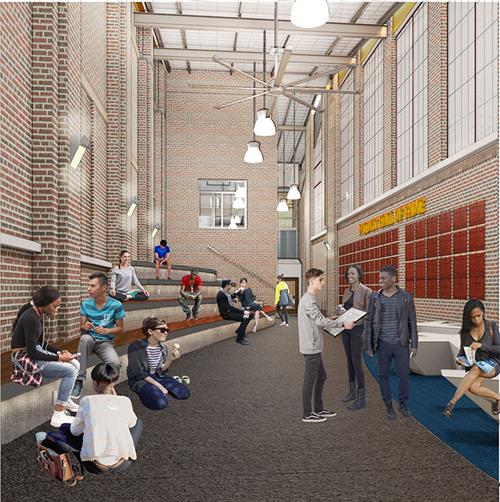 As part of the new Entrance 3 construction, a walkway and seating area were designed with student needs in mind. The project was supported by the ETHS Foundation.
As a result of the expanded entryway for Entrance 3, the bike compound was modified and additional bike racks were installed inside of parking lot 3b, off of Church Street.
---
New Engineering Lab (A155)
A new engineering lab was added in the Arts Wing on the first floor to meet the growth of the highly successful Project Lead the Way pre-engineering classes at ETHS. The well-equipped, dynamic lab space will give students the hands-on experiences needed to be better innovators, collaborators, and problem solvers. This project was made possible in part through the generous contributions to the ETHS Foundation.
---
Theory Center (H320) and Science Labs (H318 and H322)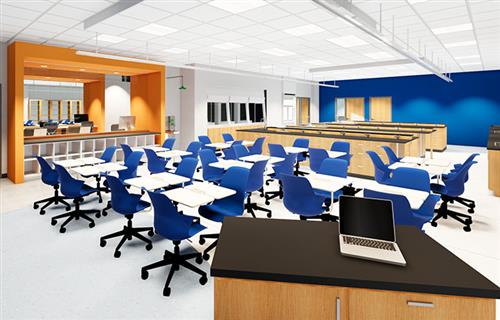 Rendering of the Theory Center for chemistry and physics classes on the third floor of H-Hall.
Thanks to the generosity of donor Leonard Schaeffer (ETHS '63) and other alumni and parent supporters of the ETHS Foundation, a new chemistry/physics ("chem/phys") Theory Center and two new science labs were created at ETHS. The complete overhaul includes a modern, flexible laboratory space, new lab tables and benches, modern technology, updated electricity and plumbing, and new chemistry hoods. The dedicated center is available to all ETHS science classes.