Facility Upgrades 2022-23
A number of facility renovations took place throughout the ETHS campus during the summer, from structural work to technical upgrades. For example, two restrooms were renovated to increase ADA accessibility in the building for students and staff. Additional projects helped meet the ever changing needs of the school community, including those noted below.
Nurses' Office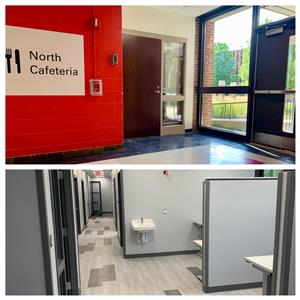 ETHS renovated the Health Services (Nurses') Office during the summer to create a more accessible, student-centered space in N121. The space is configured to enhance student privacy and has an independent HVAC system. Also, the hallway door, now adjacent to North Cafeteria, is closer to the restrooms and elevator in the North Wing. The exterior door has a ramp and can be easily accessed by emergency vehicles.

Girls' Locker Room and All-Gender Restrooms
As part of a comprehensive locker room renovation project, the girls' locker room at ETHS was transformed into a modern, functional space. Aligning with the boys' locker room renovation that was completed in 2019, the girls' locker room features larger locker sizes and single user stalls for changing and showering.
The locker room renovations will allow for updated, safer, and more accessible facilities. Section 7 of The Pilot handbook outlines the locker assignment process and locker room guidelines. This project was made possible with support from the ETHS Foundation.
ETHS modified two single-gender restrooms to serve as all-gender restrooms located on the first floor of East Wing. The restrooms are marked with signage and the stalls have been adapted for privacy. Each person uses a private, individual stall and shares the hand wash stations.
Other restrooms at ETHS are marked for girls, boys, or single-use all-gender. Most single-use restrooms require a code. All students are expected to exemplify appropriate behavior in restrooms. School staff monitor restrooms throughout the ETHS building.
Band Conductor Tower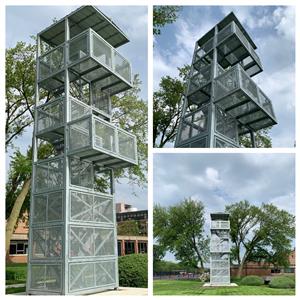 The band practice field, located at Lake St. and Dodge Ave., was expanded to support programs in the Fine Arts Department. A new 40-foot band conductor tower was built on the field, providing a clear view of the marching band practice and other field performances. The tower includes a built-in music desk and sun protection roof. This project was supported by the ETHS Foundation.
Sustainability Projects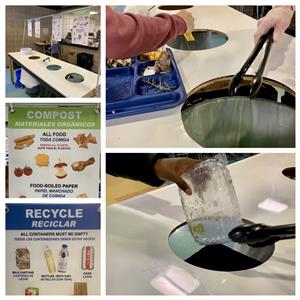 During the summer of 2022, ETHS ensured that both a recycle and trash bin were available in each classroom and office, along with signs to indicate common recyclable materials.
In addition to continued composting efforts in East Cafeteria, ETHS is expanding efforts in the 2022-23 school year, with composting in other cafeterias including the Terrace (staff cafeteria). This school year, ETHS is also reducing paper waste, eliminating the printing of thousands of sheets of paper by ensuring that information such as letters and schedules can be accessed online or by email. Also, freshman students receive a refillable water bottle on the first day of school to support sustainability initiatives and encourage use of the water filling stations throughout the building.

Visit the new web page eths.k12.il.us/sustainability for a comprehensive look at the sustainability efforts at ETHS.